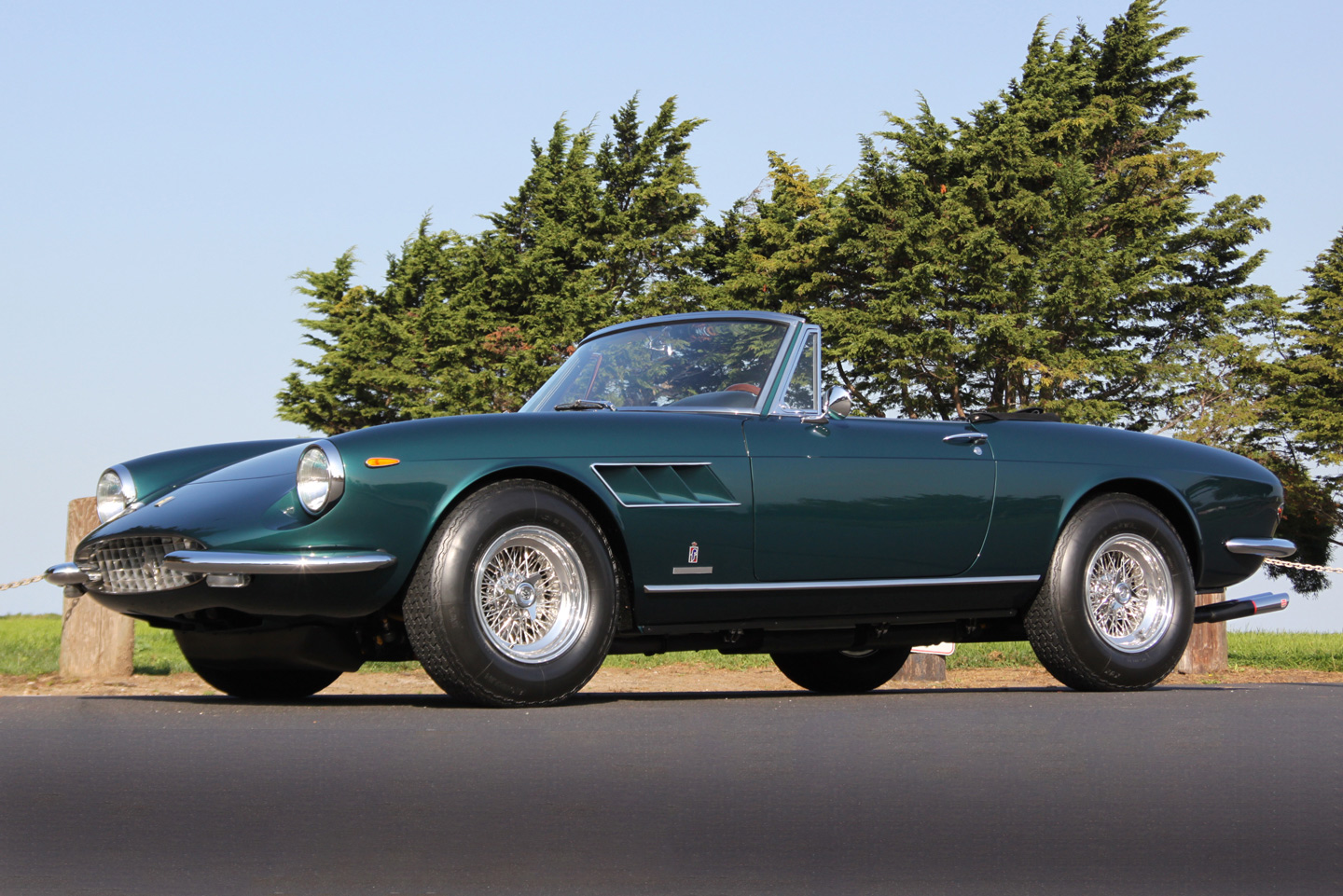 Ferrari 330 GTS and Ferrari 365 GTS
330 GTS
The 330 GTS was a significant advance over it's 275 GTS counterpart and performs very strongly with it's 300 BHP 4 litre V12. 100 examples of the GTS were made and as a Pininfarina design, they were assembled at the Pininfarina factory in Turin, and then delivered fully trimmed to Ferrari for fitment of the mechanical components.The 330 GTS was first shown at the 1966 Paris Salon, later in the year after the launch of the 330 GTC.


365 GTS
The 330 GTS was replaced in 1969 by the 365 GTS. Very rare with only 20 examples made in 1969 - this is probably the best driving convertible Ferrari of the '60's. It was essentially just a re-engine of the 330 GTS with uprated halfshafts to cope with the torque of the 4.4 litre V12, with even the styling remaining almost the same. The comparitively short production run was due to changes in emission legislation which would have been uneconomic to implement on the this model - which led to the car being replaced by the Ferrari Daytona Spyder.


Talacrest and the Ferrari 330 and 365 GTS
These terrific V12 front engined convertible Ferrari are really usable - helped no doubt by their practicality and offering a straightforward, brisk and pleasurable driving experience. The lusty 4.0 and 4.4 V12 engines make all the classic sounds and these really are cars you can drive in traffic or take to an event being both eligible for events and eminently practical. Much rarer than their coupe siblings - these rarely come onto the market and a number of examples are in long term ownership.

Talacrest has sold a quarter of the the Ferrari 365 GTS production and a number of 330 GTS models. Highlights include the sale of 10789 which was a platinum winning 330 GTS - arguably the best example in the world at the time - as a well a fabulous time-warp example which had enjoyed one family ownership history for 44 years and is undoubtedly one of the most original examples in existence.
Ferrari 330 & 365 GTS price guide
The Ferrari 330 GTS is priced in the £1.1m to £1.4m range - with RHD cars offered at a premium. The very rare 365 GTS model ranges from £2m to £2.5m.
We have access to cars which are not publically for sale - if you are buying or selling - talk to us first.
Examples of Ferrari 330 & 365 GTS Talacrest have sold